The daughter of musician Lenny Kravitz and actress Lisa Bonet, Zoë Kravitz has managed to make a name for herself by being a triple threat in the movie, music and modeling industry.
Zoë's movie credits include The Brave One, Angel Salvadore, No Reservations and the box office success, X-Men: First Class. With so many talents under her belt, Zoë is without a doubt a girl to look out for.
This edgy, it-girl princess has also been making major lasting impressions in the fashion department that has got everybody talking, making her our Fashionista of the day.
Zoë's style would be described as a mutual cross between bohemian-chic and edgy punk rock. With many of her looks ranging from floral looks to studded looks, she can definitely pull of an array of looks.
Check out some of my favorite looks below by her and learn how you too can rock some of Zoë's essence too!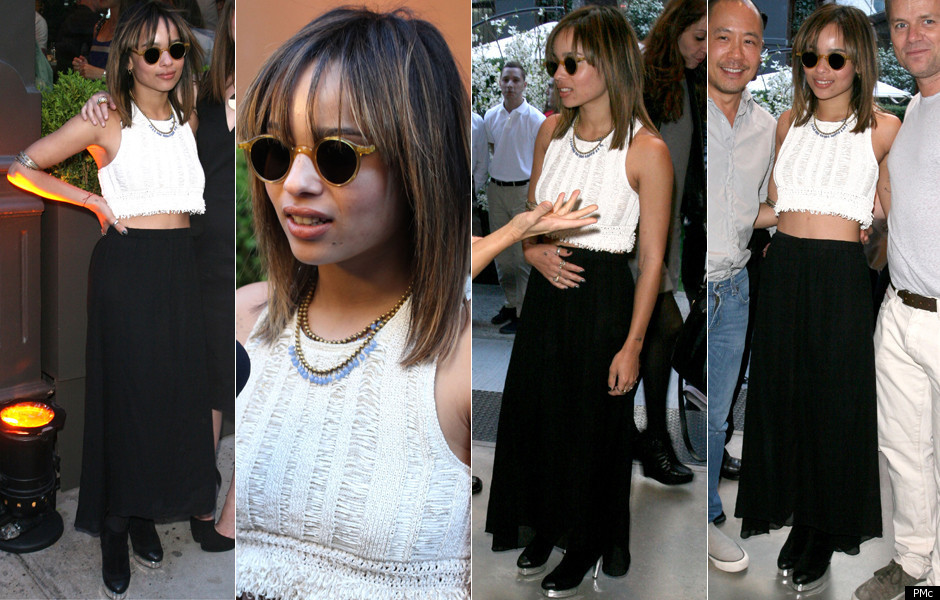 Photo credit: Huffington Post
This first look I think is just so iconic, and "so Zoë". Here, Zoë is rocking a woven-style crop top with a black maxi skirt and metal-soled black boots. Retro hippie sunglasses and gold necklace serve as accessories to finish off the look. To emulate this edgy look, look for a simple, white crop top and get creative with your maxi skirt by maybe looking for a high-low skirt or a red or blue option to make more of a statement.
This effortlessly cool outfit is perfect for any outdoor trip or doing rounds of bowling with friends. Zoë is wearing woven style tank, oversize denim jacket, high-waist black shorts with leggings and black, sheer leggings. She paired this ensemble with leather, black booties and a red, bead necklace and jade ring. The key to imitating Zoë's style seems to be to keep accessories light in number and making the statement with your outfit instead.
Got a cool dinner or movie night with friends to attend? Emulate this grungy look with ease! Zoë is wearing a fringe bandeau top with a sleek black blazer on top and rolled up, high-waist denims and ankle heel boots. Copy this rock n' roll look by pairing your bandeau top with a bright blue blazer and dark, skinny denims instead for a rebel-chic essence.
This more feminine look is ethereal and rocks a flower child vibe. Zoë pairs this gorgeous, girly sheer white dress with black, leather-strap heels and a red headband. Once again, accessories are kept at a minimum-if not at all- which makes the outfit the main focus. Imitate this look by pairing any light-weight white sundress with beige platform wedges to add more neutral color and a floral headband for a spring-themed look.
This casual outfit is great if you want to rock an edge while doing some nonchalant street crusin'. Next time you go out for a coffee run like Zoë (hey, we all need our fix) wear a skin color spaghetti strap tank, distressed high waist denims and any distressed cowboy boots you may have lying around from say, a rodeo visit, and pair those with a red, body-strap clutch and any over-sized sunglasses for a bohemian vibe.
Enjoy rocking Zoë's vintage-inspired looks and you too can become a boho-chic, punk rock princess.
If you thought that Zoë was done - think again. She has just recently launched her very own jewelery line! (how cool, huh?!) The nine-piece capsule collection , which launched under the crystal company's Swarovski Crystallized division, was inspired by Zoe's love of travel, vintage jewelry and her birthstone, Turquoise.
Check her out talking more about it in an interview she did with Huffington Post:
On inspiration:
"I really wanted to try and capture the colors and textures of places I want to travel to -- like Morocco and India,"
On what her parents think of her new line:
"They are super stoked! My mom saw it for the first time this morning and she said 'It's so pretty!' And I don't think my dad has seen it yet but I think he'll like it," Zoë said. "My style is very inspired by both my parents, so we all kind of have the same taste."
Wish to get your hands on one of Zoë's original pieces? Click
here
!
Let me know what you think of Zoe's incredible style!