Chocolate Cashmere Closet strives to be the platform for all things up-and-coming relating to the fashion and beauty world. As a fashion blogger myself, I draw interest and admiration from a plethora of other fashion bloggers who are interested in the same works and ideas.
Every month, I will feature a fashion blogger from anywhere in the world in an interview, getting to know them and their sense of style better.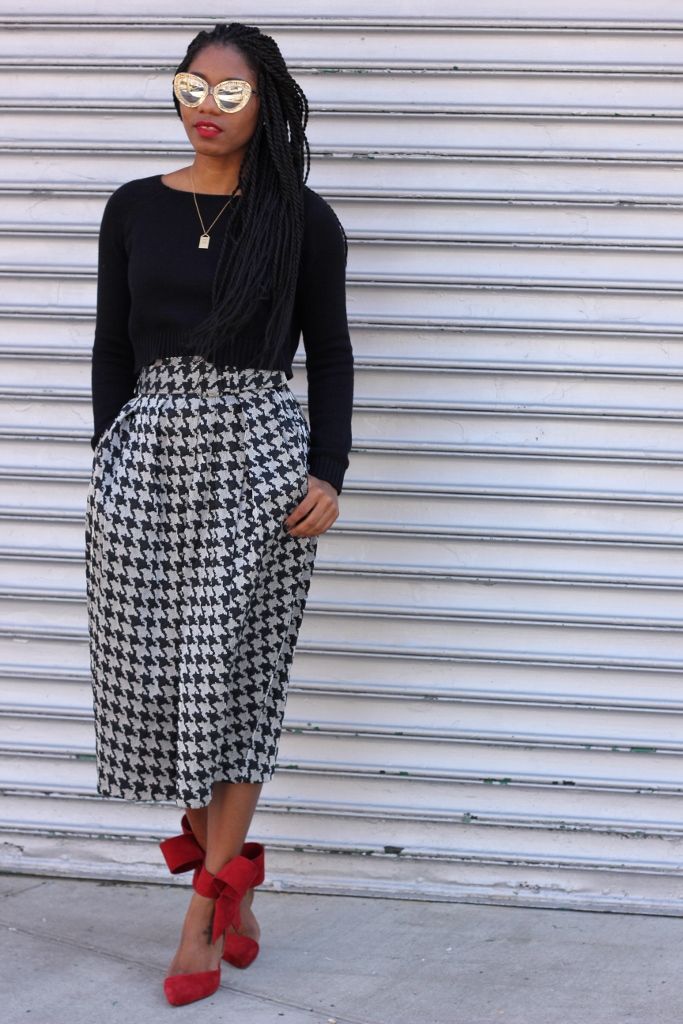 Monroe Steele is a fashion blogger, freelance stylist and all round fashionista hailing from New York City, and my very first "Blogger Of The Month".
Her blog is eclectic, elegant and modern and she has style for days and draws masses of over 30,000 people to her blog every month. Monroe has been featured with the likes of Vogue, Elle, Glamour and Marie Claire. This vintage store lover knows the in and outs of thrift stores in NYC and is always giving advice to her readers on the snagging the greatest buys!
Get to know her better in the interview below!
Monroe- I am from a little town in North Carolina. I am a southern girl at heart but I always dreamt of living in New York City. So when it was time for me to do my graduate studies I moved to New York City and have been here for about 6 years.
Favorite shops to shop at?
Monroe- My favorite shops are definitely Zara and Loehmanns (a large USA department store). I also love doing a lot of thrift shopping and vintage shopping too.
Monroe- I have an undying love for Alexander Wang shoes. He makes some of the most daring, sexy and unique heels and I have to own them all.
Monroe- A great tailored blazer, a pair of tall pointy toed black heels and red matte lipstick.
Describe a typical outfit that you would wear?
.
Monroe- I love doing a skirt, white tee and blazer with a high heel. Its my definite go-to uniform for just about every occasion.
Monroe- This is a tough question because I find inspiration everywhere. I really love how Tracee Ellis Ross pulls her outfits together. She also is a vintage lover like I am.
Favorite fashion era and why?
Monroe- I would say the 50's. I love vintage A line skirts and dresses but also real heavy lace and crochet pieces.
How and when did your interest for fashion come about?
Monroe- I've always loved fashion but the show Sex and the City definitely catapulted my love for fashion as well as New York City.
What are your current favorite spring fashion trends?
Monroe- My favorite spring trend is denim. I am in love with cutoff shorts, denim overalls and denim jackets. Its so easy and also easy to dress it up (which is my favorite thing to do). Elle USA did s spread recently with Kerry Washington rocking very high end pieces with nothing else but denim. Its my approach as well. I love pairing heels with denim, or sequins with denim. It just works on so many levels.
Any advice for people looking to get into the fashion industry?
Monroe- If you don't have any formal training a fashion blog is always a great way to start. It really can open a lot of doors to events as well as into fashion week. Be persistent and creative and most of all stay true to yourself.
Favorite fashion quote and why?
Monroe- "There are no rules in fashion." I love this quote because everyone loves to have rules and guidelines. It makes life easier. But it also makes life rigid. I love that with fashion you can do whatever you want. Its self expression. People may hate it people may love it but they don't matter. What matters is how wearing what you are wearing makes you feel.
What trend that has disappeared that you wish people would bring back?
Monroe- Trends always come back. Things that are old now will be new again next season.
Monroe- "Life is short, buy the shoes."
What is your ultimate fashion goal that you hope to achieve from your work in fashion?
Monroe- To cover every fashion week (New York, Paris, Milan, London). So far I've done New York for 4 seasons.
Want more of Monroe? Head on over to her blog, fashionsteelenyc.com for style that your are sure to love!
Check back next month to see a brand new "Blogger Of The Month"!